Archive for February, 2009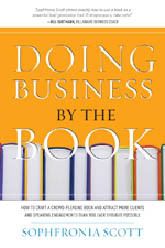 Sophronia Scott is my personal friend and I'm honored to be a part of her "Doing Business By the Book" book launch.  She is one of those author's who truly understands how to connect with her audience.
In 2004, Sophronia released her highly acclaimed novel "All I Need to Get By", which was endorsed by Harvard University, People Magazine and CNN's Soledad O'Brien.
In this economic climate, you go with what works. Becoming a published author is just such a tactic. With "Doing Business By the Book: How to Craft a Crowd-Pleasing Book and Attract More Clients and Speaking Engagements Than You Ever Thought Possible" by Sophfronia Scott you will learn how to write the right book for your business. You'll find ideas for powerful lead generation strategies as well as the basic nuts and bolts on choosing and assembling just the right stories to tell in your book.
In "Doing Business By the Book" Sophronia will take you on a journey from beginning to end to help you find your voice for you book and organizing your thoughts. Throughout the book she offers writing tips, PR ideas and even where and how to sell your new book.
"Doing Business By the Book" is the right book at the right time. If writing books works for the likes of T. Harv Eker, Robert Kiyosaki and Jack Canfield, it can work for you!
Plus, if you pick up "Doing Business By the Book" before Midnight, Eastern time (New York USA) TODAY (February 26th), you'll also receive an exclusive bonus package called "The Savvy Entrepreneur's Toolkit" assembled by some of the savviest business experts working today (myself included). I urge you to look at this important offer now!
Go to http://www.DoingBusinessBytheBookToday.com to take advantage of this onetime special offer.